Warning: This post contains expletives
Time for a new entry, and it's a timely extension of my first blog of the new website era.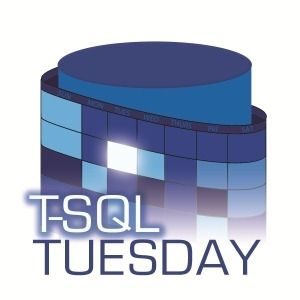 This month's T-SQL Tuesday comes from Taiob Ali (b | t), who knows a lot about data and running. That obviously makes him good people. For the non-data community people who are reading, it's a monthly blog challenge where many of us speak on a particular topic.
For November, Taiob asks how we are coping with and handling life during this global pandemic. We're in the middle of a period which I doubt many of us envisioned possible, where a novel virus would take over.
A good stat that he points out:
The enormous scale of the crisis and the impact it is having are naturally causing a lot of fear, uncertainty and anxiety across the globe. Add social isolation, disrupted work and family routines, cabin fever and economic instability, and it is understandable that our mental health is suffering. In a recent survey by the Kaiser Family Foundation, 45% of adults feel that worry and stress related to coronavirus has had a negative impact on their mental health.
As you are going to see first, "handling" is not how I would describe my approach to the pandemic beyond the month of April, until fall. Some of this was already covered in my previous blog entry, so I'll be repeating a few general points, but will be adding additional context to the old post. So I'll break this into how it started, and how it's going…like that meme.
Professional growth
How it started
Let's start with the main job. Some of the initiatives I wanted to take on at my job had become deemphasized due to other priorities, which hurt my motivation when it came to tech debt that had built up. I knew I was fully capable of solving a few problems, but didn't make a push because there were too many other issues to spin my wheels on. I also figured I would run into roadblocks (however irrational that is) due to good DevOps partners that were overwhelmed enough, or team members that I had cold clashes with over methodology. Then there is the home office aspect, which takes away some of the easy interactions.
I'm not close to the name that some others in the data community are, but I took steps back from wanting to speak to others, or stalling on getting my blog back after the hack. Distracting myself with television time felt better than trying to grow professionally and receiving blowback.
How it's going
Last time, I noted how I shifted to another group who needed my services when they had to find which database developers were best for which roles. I did wonder at the time how much it had to deal with my own problems focusing, or issues I was having with teammates when it came to getting the implied communications correct. Maybe there was a bit of both, but now I am glad to have better structure with my new team, even if some meeting requirements are a bit more strict. My hope is just that I can do what is expected and help their transition with Azure SQL DB.
At least around March-April. and again since September, I made better use of my Pluralsight subscription. In particular, I dusted off my PowerShell skills, and dug deeper into Azure Data Factory, knowing how those would help with my job. Using both helped me with both teams for different projects.
In terms of helping others, I finally got back on track and submitted sessions related to neurodiversity during times of brief inspiration. I can't say I did well with promoting my panel discussions and talks, but once I started getting myself together, the talks fell into place, and now I get to discuss autism experiences as a professional every month through February, at local and international levels alike. That reminds me…I need to get ready for my Summit speaking debut tomorrow.
Last, but of course most important, I got the blog back up and started to write again.
Physical health
How it started
Home offices that are set up for once a week are often makeshift. That's how the foot injury happened. I still didn't get any faster when I did run, because there were neither in-person races to motivate me nor any training plan to get ready for the marathon we were supposed to do last month in Kansas City. Good thing I never signed up, at least.
How it's going
I can't say my cardio is completely shot. Getting a Peloton bike was a big help. With my foot injury, I was able to keep my cardio up by completing a few bike rides weekly. That really helped when running up hills, even if the heat acclimation here in NC is the same story as any year. We would throw in some 5k and other short races based on charities we like, even if I wasn't going for PRs all the time. I couldn't promote the RunWalk for Autism that I do every year, but I still participated and finished 3rd in my age group (the advantage of a smaller field, considering that wasn't even my best effort).
By the end of the summer, I started watching my drink count more closely (more on that shortly). I use a custom data field called BeersEarnedPlus on my Garmin watch, and for most cardio activities, it translates the amount of beverages earned based on calories burned. It takes more calories now to get to a drink now, since I'll be drinking more stouts and porters. My wife and I joined two friends in a 30-day core challenge as well, helping to get that strength work back in the regular routine. Plus, my mileage has been increasing gradually as I return from the injury – no structural damage!
Mental health
How it started
I spent most of the late spring into summer on autopilot. I stopped learning much, and like I mentioned in physical health, I was hurting and forcing myself to go along. Last time I posted, I said this:
I keep having to remind myself that if I'm not okay, that's not a bad thing. My only concern is that it becomes bad once it gets in the way of relationships with others and how I perform. When I'm not given reason to be passionate, and when I am not provided with validation, I regress.
My biggest problem, however, was believing was not okay to be okay when others are not okay. I started to question if I was supposed to go along. Many of us are not okay, but it is easy to put my own situation into a vacuum, so I can help others on the surface while being okay with my own schedule. However, it also came down to not just a balance of failing to be present. Somehow, I felt more and more like a child than ever, as if I was losing control of my environment because I did not conform to what everyone else had expected me to become. People can be off balance, but I either have to be perfectly balanced or to be the most acceptable off balance possible. My thumb and the section near it are calloused from a biting stim. I had days where I thought I was drinking too much, which wasn't necessarily true with my consumption, but how I drank and when gave me this perception that I made it a necessity.
OH, YOU'RE FUCKING OKAY, HUH?! IT'S AGAINST SOCIETAL LAW! YOUR PUNISHMENT IS REMOVAL OF ANY SELF-ESTEEM.
Yeah, that's the version of "not okay" which I had become. Feeling like everyone close to me thought what was best for me.
How it's going
One thing that kept my wife and I from losing it entirely is realizing that we had to engage ourselves as a unit by taking a few trips. So we started going on state park trips every month. We just returned from the beautiful Stone Mountain. These helped us continue to bond and keep each other sane by unplugging.
I have been trying to structure my time in such a way to keep up with growth and learning during certain hours of the day, and volunteering via the NC food bank and Blood Connection (team A+, y'all). We began some home minor home improvements, like turning one room into her office, adding a bookcase to mine, and building both a bar cart and new guest bed frame. I have had some sporadic chats and video calls with friends of mine, and even small social runs, though not nearly enough. During the pandemic, two of our best friends tied to knot, and we had the privilege of being part of the ceremony. Having a quarantine pod is highly recommended for sanity, as it allows you to stay safe with other friends and won't deprive you of the need for social interaction.
I am a frequent loner who needs space to himself, and am thankful to have an understanding partner. She's the more social half, but gives me the space when needed, and the better ideas for home improvement. She also has been there as an old friend from my high school years passed away unexpectedly prior to writing this. Stuff gets real, but I find myself handling it better than I would have earlier this year.
Full stop
I was not among those who was coping early, but started to realize that I had to take it upon myself to control what I could, and not force what I couldn't. My secret was going with what kept me happy, and pointing out that it is okay to both not be okay, and to actually be okay. Now we're seeing it through. I hope everyone else is doing the same.